Description
★☆—

School Labels Starter Pack – GET 25% OFF

—☆★

Ideal name label pack for school & nursery!
Getting the kids ready for the new school term to label all their school clothes and stationaries.
This school labels starter pack includes all you'll need to make things easier for you.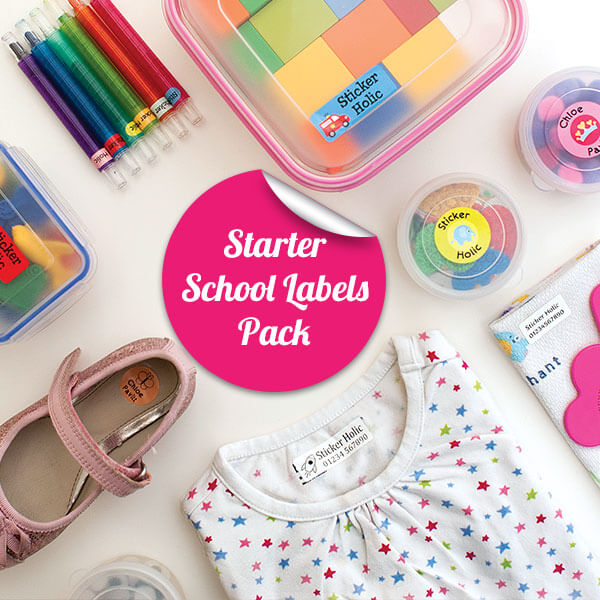 ★☆—

Stick on name labels

—☆★

Our stick on name labels will stay stuck… Simply peel off and apply to any clean, dry surfaces.
These name stickers are perfect for bottles, beakers, lunchboxes and all utensils.
They will keep track of pencil cases, rulers, books and toys.

PLEASE NOTE:

Our name labels are waterproof, dishwasher resistant (up to 50°C) and microwave safe.
Leave the utensils at least 24 hours before washing.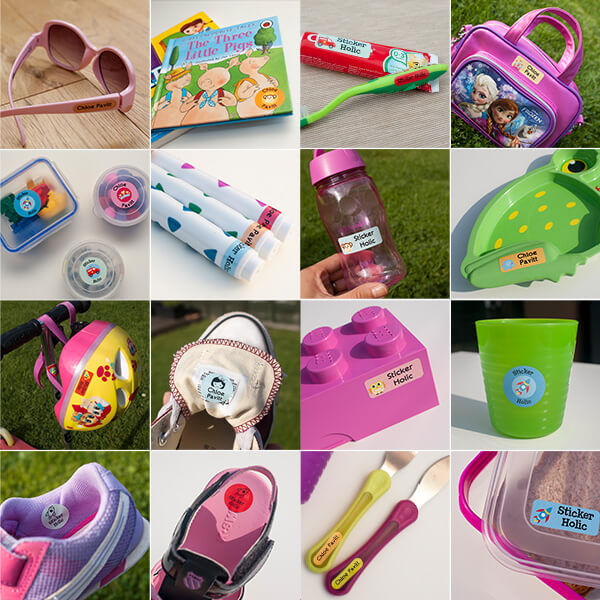 ★☆—

Stick on labels for clothing

—☆★

Our stick on clothing labels will stay well on clothing care label.

Our stick on clothing labels are Ideal for: Cardigan, Dress, Trousers, Coat, Swimming costume, tights, shirts etc
Dimensions: 30*15mm and 22*9mm

PLEASE NOTE:

DO NOT apply the labels directly on the garment's fabric. They wouldn't resist the wash.
Also DO NOT try to remove the labels when the garment is wet.
Lastly, please allow at least 24 HOURS before use.
★☆—

Personalised name tag for kids

—☆★

Kids love our personalised bag tags! Just enter their name and make them their own.
Your little one will be the coolest kid in school with their very own personalised tag!
Choose from a variety of designs.

Dimensions: R58mm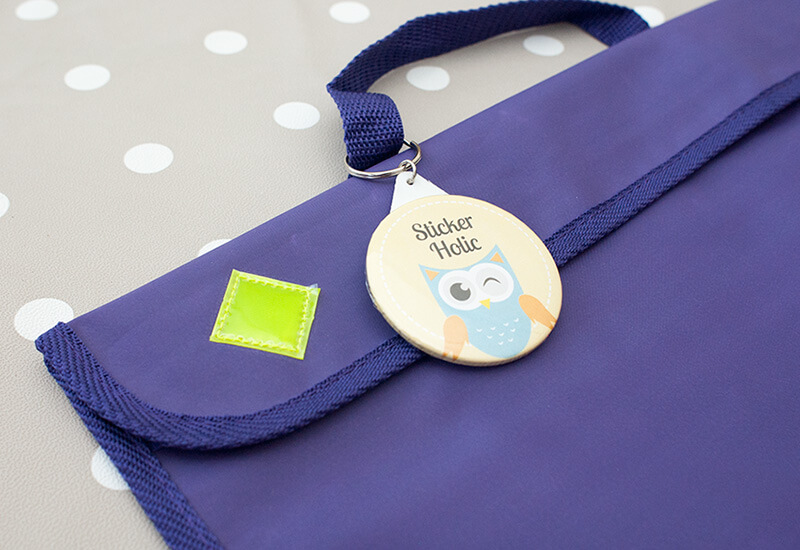 ★☆———

Object Label Design Option

———☆★

★☆——— Clothing Label Design Option
———☆★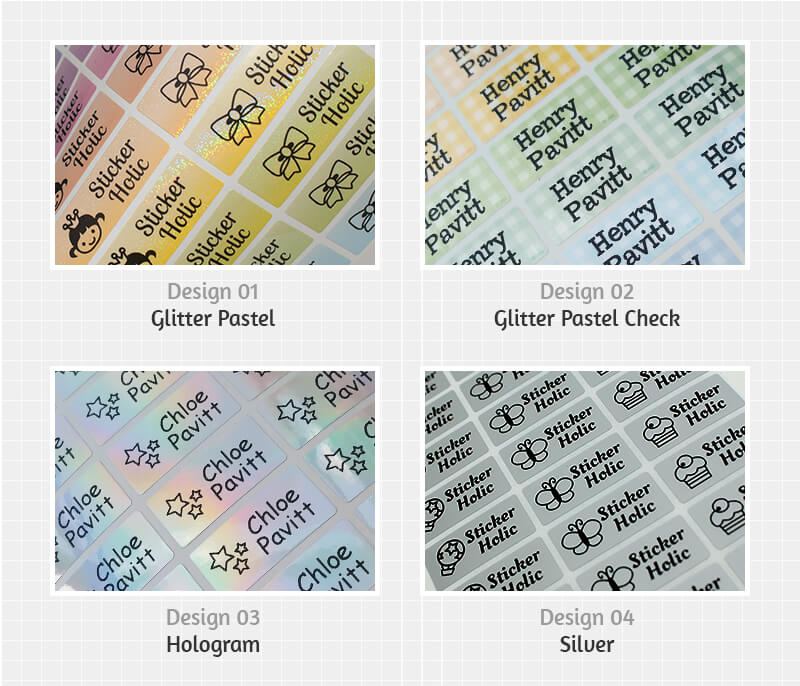 ★☆———

Font Option

———☆★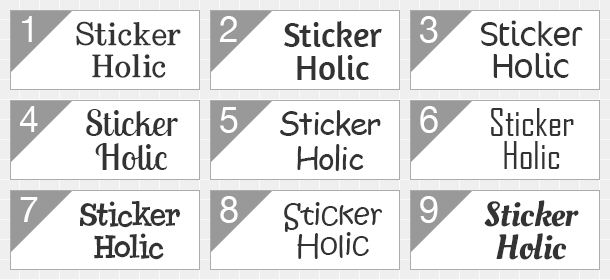 ★☆——— Icon Design Option for shoe labels
———☆★
★☆———

Bag Tag Design Option

———☆★
★☆— Custom Name Stamp —☆★
No more sewing! No more ironing!
Custom kids name stamp for school!!
The fastest way to label your belongings. Simply stamp, stamp, stamp!
Sticker Holic Custom Name Stamp is suitable for papers, leather(shoe sole, wellies etc),
some fabrics(clothes caring labels, polo t-shirts, cotton t-shirts, PE top, underwear,
swimming costume, bookbag, PE bag etc) and some plastics.
SIZE: 36*14mm
Are you looking for name labels for clothes?
We'd recommend our Clothing Name Labels.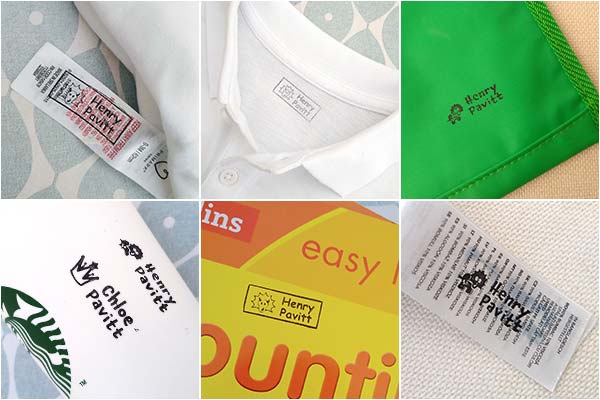 ★☆— Please note —☆★
– Wash new clothes before stamping.
– Once applied, please allow the stamp ink to dry up for at least 24 hours before washing/using the item.
– These are not suitable for thick/fluffy/rough texture and some plastic.
– Always practise on paper first.
★☆— How to use name stamp —☆★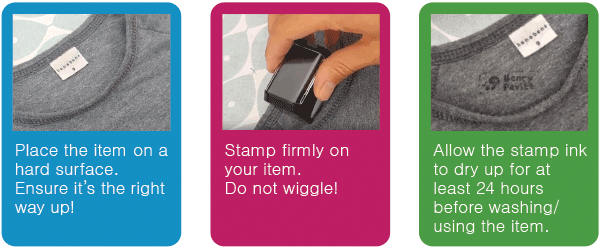 ★☆— When you receive the stamp… —☆★
We will send you the stamp body and ink pad separate so you can fit the ink pad in when you need to use.
Here is the guide how to fit the ink pad.
1. Put a piece of paper underneath to prevent stain the floor/table.
2. Get the ink pad out of the silver bag (Please keep the bag to store the ink pad later)
3. Check two small dots of the stamp body.
4. Check the arrow point of the ink pad.
5. Squeeze the stamp together slightly.
6. Fit the ink pad into the stamp facing the dots side of the body and the arrow of the ink pad together.
7. You will hear small "click" sound!
8. All done. Test it on the paper and enjoy stamping!
★☆— If you don't use the stamp a while… —☆★
Please store the stamp in a cool/dry space to avoid contact with air.
You will be able to use the stamp for longer.
Here is the guide how to store the ink pad.
1. Squeeze the stamp together slightly.
2. Carefully push and remove the ink pad.
3. Keep the ink pad in the silver bag provided(make sure to seal the bag properly!).
4. Next use, refit the ink pad.
5. Enjoy stamping again!
★☆— Name Stamp Icon Option —☆★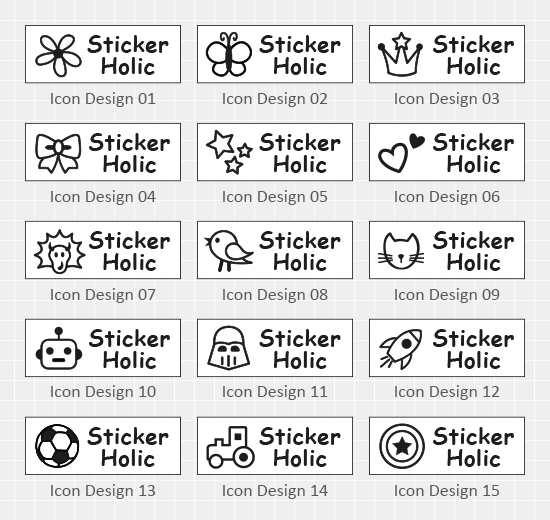 Save
Save
Save